E-bike tour in Bolgheri: the skyline in the saddle
Program
Meeting point at the Tenuta Le Colonne enoteca, where your guide will meet you
Participants will be provided with e-bikes and helmets (included)
E-bike route through the mediterranea maquis and vineyards  (8 km – climb 150 m)
Panoramic break on the wooden terrace in the Tenuta Meraviglia vineyards, with a view over the Populonia headland and the Tuscan islands
Tuscan wine and dine experience tasting two wines at the Tenuta Le Colonne enoteca, sampling cheeses and Tuscan "schiacciata" bread
Description of the activity
There is an experience that anyone who loves e-bike tours must try at least once in their life. It is to get on the saddle and glide through the woods of Bolgheri, get lost among the oaks and gorse, discover a breathtaking view and enjoy the scent of the sea.
That of Bolgheri is a unique and wonderfully organized: a real gem among the organized tours by e-bike. From the reservation onwards, we will not have to think about anything. We will receive our new wheels at the time of departure, at Tenuta Le Colonne, where we will also meet our guide Tutun Club. From that moment on, we will only have to worry about capturing all the beauties that the 8 km route has reserved for us.
The route is extremely pleasant and easy. The difference in height is about 150 m, with many panoramic points and as many pit stops to drink and rest. At the highest point of the ring, we will arrive at Tenuta Meraviglia for the penultimate and longest break. Here our gaze will once again be free to lose itself in the horizon: from the islands of the Tuscan archipelago to Corsica, we will breathe in the warm, slightly salty air that rises from the sea and envelops the hills.
Loaded with beauty, we will be at this point ready to walk through the pine forest and head towards our well-deserved wine, cheese and schiacciata tasting.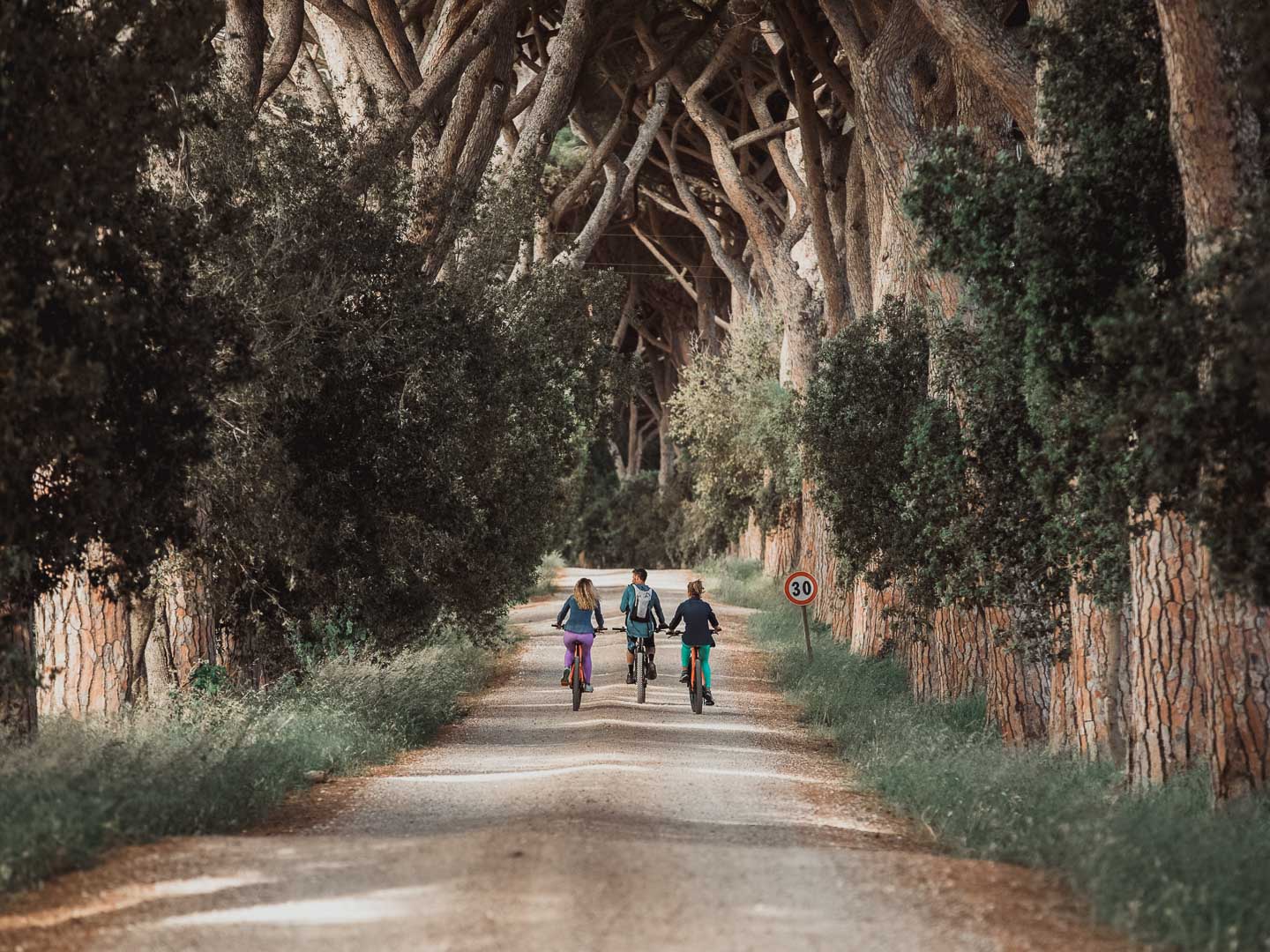 TENUTA LE COLONNE
Via Vecchia Aurelia 418, Località Donoratico – 57022 Castagneto Carducci (LI) ITALIA
Tel.:+39 0565 775246
Email: [email protected]
Information
Meet ten minutes before the start of the tour at Tenuta Le Colonne wine shop
Parking available near the wine shop
Recommended clothing: sneakers; long sleeve t-shirt; bike shorts with reinforced bottom (optional); personal water bottle (otherwise a water bottle will be provided); cap with visor in case you do not want to wear the helmet; waterproof windproof in case of changeable weather conditions
The route can also be covered on foot
This activity is available in English and Italian
Cancellation policy: refunds are not given except in special cases; instead, a voucher will be issued that can be used within one year