BACK TO ROOTS. THE ESSENCE OF DIEVOLE
THE SINGLE VINEYARD CHIANTI CLASSICO PROJECT
Promoting a territory by telling its essence, combining technique with instinct, freedom with consistency.
Thus Sangiovese returns to its essense, an expression of different terroirs, albeit so close to each other.
Casanova was born in mostly sandstone soil ( Macigno del Chianti),  the tannins are gentle, the substance is light.
The Sangiovese of Catignano, on the other hand, is juicier, enjoys many hours of sunshine, and has notes of ripe fruit. Finally, Petrignano is concentrated and savoury, the interpreter of a vineyard whose deep roots touch the limestone mother rock. Both originate from the Formazione Monte Morello, but from area with very different micro-climates.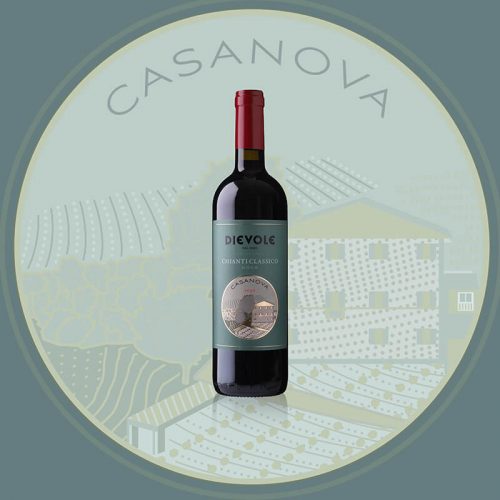 CHIANTI CLASSICO CASANOVA
A Chianti Classico "as it used to be", immediate, with a nice acidity, pleasant to drink The Casanova terroir gives us a very modern Sangiovese with extremely traditional roots, which with its elegance and freshness reminds us of the Chianti Classico wines of years gone by.
CASANOVA VINEYARD
Soil: Macigno del Chianti
Extent: 2.5 ha
Altitude: 400 m a.s.l.
Exposure: South West, South East.
The vineyard is located near the winery, north of Dievole.
Tasting notes: very bright ruby red. Classic aromas of the variety emerge on the nose, with notes of small red fruits such as cherries and morello cherries, alternating with spicy hints. The palate is smooth, supported by a dense tannic texture and a savoury, velvety finish.


CHIANTI CLASSICO CATIGNANO
Catignano is a plateau at 370 m above sea level with vineyards of different ages and a large presence of Alberese. The exposure is west, south-east, with a lot of sun during the day but also rather cold temperatures at night, with a temperature range that favors the aromatic development of the grapes.
CATIGNANO VINEYARD
Soil: Formazione Monte Morello
Extension: 11 ha
Altitude: 370 m a.s.l.
Exposure: West, South East
Tasting notes: the nose opens on hints of red fruits, then goes on to perceive a tertiary complexity of tobacco leather, graphite and liquorice.
Warm and juicy on the palate, where ripe red fruit notes are rediscovered.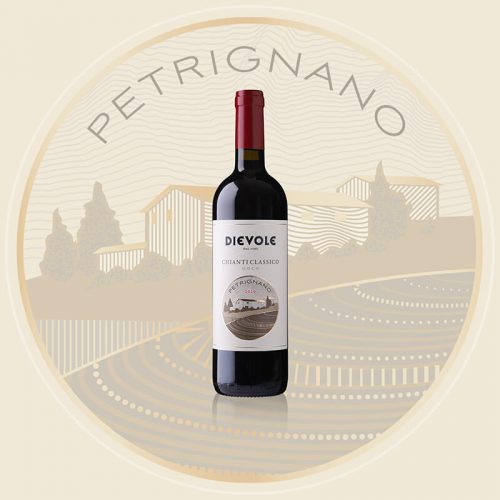 CHIANTI CLASSICO PETRIGNANO
Concentrated wine with a very rich sip. The abundant presence of fossil remains, the depth of the roots and the low vigor that the plants find in this area give us a particularly expressive wine, a Cru with a great personality.
PETRIGNANO VINEYARD
Soil: Monte Morello formation. Great stoniness.
Extension: 7 ha
Altitude: 350 m a.s.l.
Exposure: North east
Tasting notes: ruby red colour to the glass, deep and intense. The nose opens on intense and ripe fruit tones, of plum and wild berries in particular, followed by hints of tobacco, wet earth and chalk. The taste is full and lively, imposing but well worked in the tannic texture, persistent and savoury on the finish
Dievole soils and micro-terroirs.